For weed control, weed feed, fertilizer, pre emergent, bermuda weed killer, best lawn fertilizer, turf builder, pre emergent with herbicides, pre and post emergent with herbicides and for broadleaf weed Killer for your lawn, Please call North East Texas Lawn Care, today! 972-235-6688
Serving North Dallas and Collin County, Texas.
Beautiful healthy lawns depend on a weed control and fertilization program that will allow your lawn to thrive season after season. At North East Texas Lawn Care & Landscape we have designed a chemical treatment program that will do exactly that! Our lawn care program includes a thorough lawn analysis, fertilizing, weed control, insect control and disease control regime. Below you will find a brief description of our lawn care program so that you will understand the importance proper lawn care.
Lawn Analysis
This detailed examination provides our expert lawn care specialists the opportunity to examine your lawn so that we can evaluate its current condition and determine the lawn's nutritional needs. This analysis allows us to identify any special problems that may exist.
This analysis will identify the following:
Grass Type:
In able to determine the best program for your yard we must first determine the type of turf on the property.
Disease:
Turf disease has the potential to appear overnight and is generally related to weather along with watering and fertilization practices.
Insects:
Insects can have detrimental effects in a matter of days. An infestation is often not visible until extensive damage is done.
Broadleaf Weeds:
Broadleaf weeds which appear in many varieties will appear in your lawn at various times of the year.
Turf Density, Sun or Shade:
Thick lawns prohibit weed growth besides being attractive. Grass will grow differently in areas depending on available light. One variety grows in shade, while another demands bright sun.
Lawn Care Applications
Application 1
Your first application beginning in the late winter begins with a pre-emergent and herbicide program. This is a preventative measure which is intended to eliminate the possibility for future weed growth.
Application 2
The second application is a heavy dose of balanced fertilizer that is crucial for rapid spring green-up. In addition, a pre-emergent weed control is applied to stop the formation of crabgrass, foxtail and other undesirable grassy weeds.
Application 3-5
During the late spring and throughout the summer months a balance of fertilizers and nutrients is applied. We recommend three applications throughout the summer months. We also suggest an insect application that will eliminate unwanted insects that thrive on your healthy yard.
Application 6
Application six is a pre-emergent and herbicide program in the fall. This is a preventative measure which is intended to eliminate the possibility for future weed growth.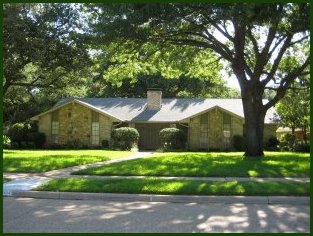 Many lawn care companies use liquid fertilizers. North East Texas Lawn Care & Landscape combines a slow release, granular application of fertilizers, with a liquid herbicide and pre-emergent to provide optimal results to your lawn care program. Liquid fertilizers will typically release too much nitrogen which causes your lawn to grow so quickly that it chokes, dries out and loses its color. Our granular fertilizer falls through the grass onto the soil where it slowly feeds your lawn. The result is long lasting greener grass that will endure through dry spells and heavy traffic.
When selecting a lawn care program for your yard, the very most important thing to keep in mind is that not all yards are created equal. In fact, each of your neighbors probably have a very different lawn chemistry. That very thought is why our specialists will design a lawn treatment plan that is perfectly suited for your yard.
If you have any questions or would like to schedule a free consultation, please feel free to contact North East Lawn Care & Landscape at 972-235-6688. You may also request services from this site.